2019 LEE DONG WOOK FAN MEETING – I'M WOOK (부제: To My Inside)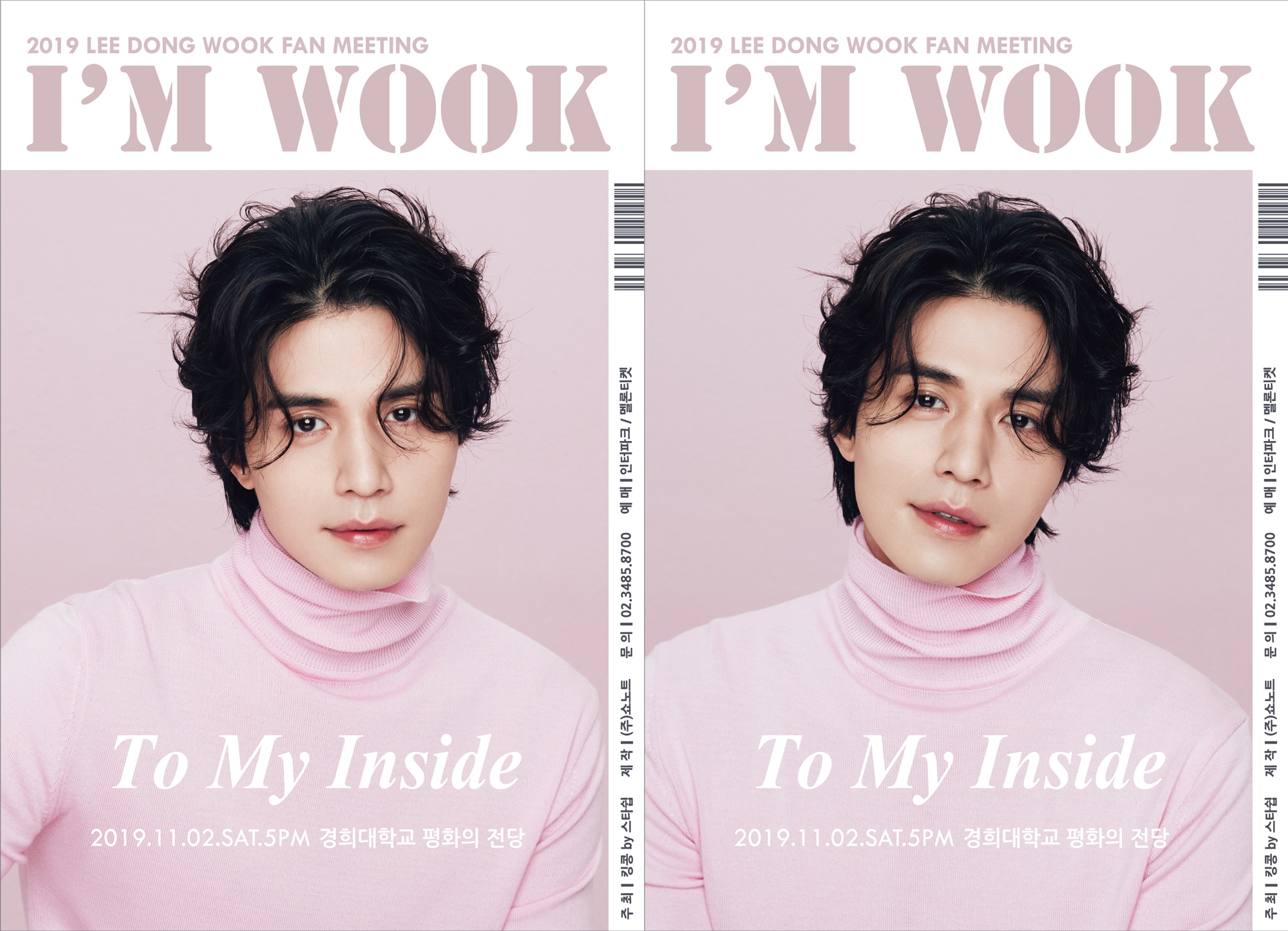 Hello, it's King Kong by Starship.
[Concert Information]
Date: 2019.Nov.2 (Sat)
Time: PM 05:00
Venue: Peace Hall in Kyunghee University
Age Limit: 8 years and above
Ticket Price: KRW 66,000 *Same price for Pre-ticket and General ticket sales
[Ticket Sales Schedule]
Pre-ticket sales for the V FANSHIP: 2019.Sep.27(Fri) PM 8:00 ~ 11:59 (KST)
Authorization period for the V FANSHIP:
2019.Sep.24(Tue) PM 2:00 ~ 2019.Sep.27(Fri) PM 11:59 (KST)
General Sale Tickets: 2019.Oct.1(Tue) PM 8:00 (KST)
* V FANSHIP advance bookings are only available at Melon Ticket, and regular bookings are open at both Melon Ticket and Interpark Ticket.
* Only member who belongs to 'LEE DONG WOOK FANSHIP 1ST' and has an authorized ID, signed until 2019.Sep.22(Sun) by using V FANSHIP with the agreement of providing ticket's related information to the MELON TICKET will be entitled to purchase pre-ticket sales. (1 ticket for one person only)
[Ticket Office]
The performance tickets will be sold via Melon Ticket and Interpark Ticket. Please contact Melon Ticket (1899-0042) and Interpark Ticket (1544-1555) for ticket booking inquiries.
* For more information on the fan meeting, please check the booking page below.
- Melon Ticket: https://ticket.melon.com/csoon/detail.htm?csoonId=3575
※The official website of Lee Dong-wook will prohibit unauthorized theft, refurbishment and redistribution of contents.
Board list

No.

Content

Name

Date

Hits

23

normal

킹콩 by 스타쉽

1602

22

normal

킹콩 by 스타쉽

1964

21

normal

킹콩 by 스타쉽

7901

20

normal

킹콩 by 스타쉽

7909

19

normal

킹콩 by 스타쉽

3505

18

normal

킹콩 by 스타쉽

1621

17

normal

킹콩 by 스타쉽

2821

16

normal

킹콩 by 스타쉽

5366

15

normal

킹콩 by 스타쉽

1806

14

normal

대표운영자

6124

13

normal

킹콩 by 스타쉽

5233

12

normal

킹콩 by 스타쉽

1989

11

normal

킹콩 by 스타쉽

5864

10

normal

킹콩 by 스타쉽

2883