Urgent notice on impersonation of an actor Lee Dong Wook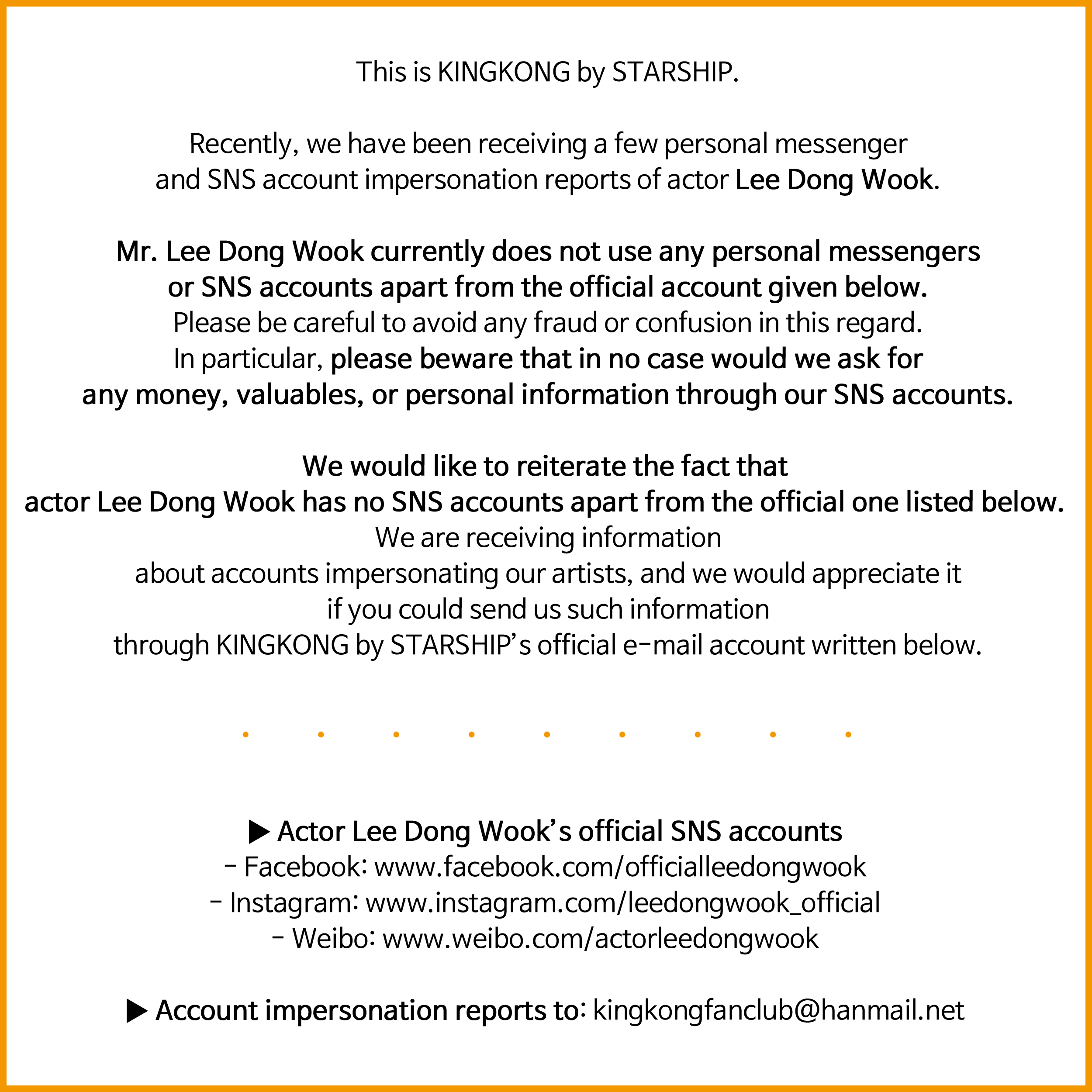 This is KINGKONG by STARSHIP.
Recently, we have been receiving a few personal messenger and SNS account impersonation reports of actor Lee Dong Wook.
Mr. Lee Dong Wook currently does not use any personal messengers or SNS accounts apart from the official account given below. Please be careful to avoid any fraud or confusion in this regard.
In particular, please beware that in no case would we ask for any money, valuables, or personal information through our SNS accounts.
We would like to reiterate the fact that actor Lee Dong Wook has no SNS accounts apart from the official one listed below. We are receiving information about accounts impersonating our artists, and we would appreciate it if you could send us such information through KINGKONG by STARSHIP's official e-mail account written below.
▶ Actor Lee Dong Wook's official SNS accounts
- Facebook: www.facebook.com/officialleedongwook
- Instagram: www.instagram.com/leedongwook_official
- Weibo: www.weibo.com/actorleedongwook
※The official website of Lee Dong-wook will prohibit unauthorized theft, refurbishment and redistribution of contents.
Board list

No.

Content

Name

Date

Hits

23

normal

킹콩 by 스타쉽

1602

22

normal

킹콩 by 스타쉽

1964

21

normal

킹콩 by 스타쉽

7904

20

normal

킹콩 by 스타쉽

7909

19

normal

킹콩 by 스타쉽

3506

18

normal

킹콩 by 스타쉽

1621

17

normal

킹콩 by 스타쉽

2821

16

normal

킹콩 by 스타쉽

5366

15

normal

킹콩 by 스타쉽

1806

14

normal

대표운영자

6127

13

normal

킹콩 by 스타쉽

5233

12

normal

킹콩 by 스타쉽

1990

11

normal

킹콩 by 스타쉽

5865

10

normal

킹콩 by 스타쉽

2884