[EVENT] Wook's post office -Heartfelt letters-(Close)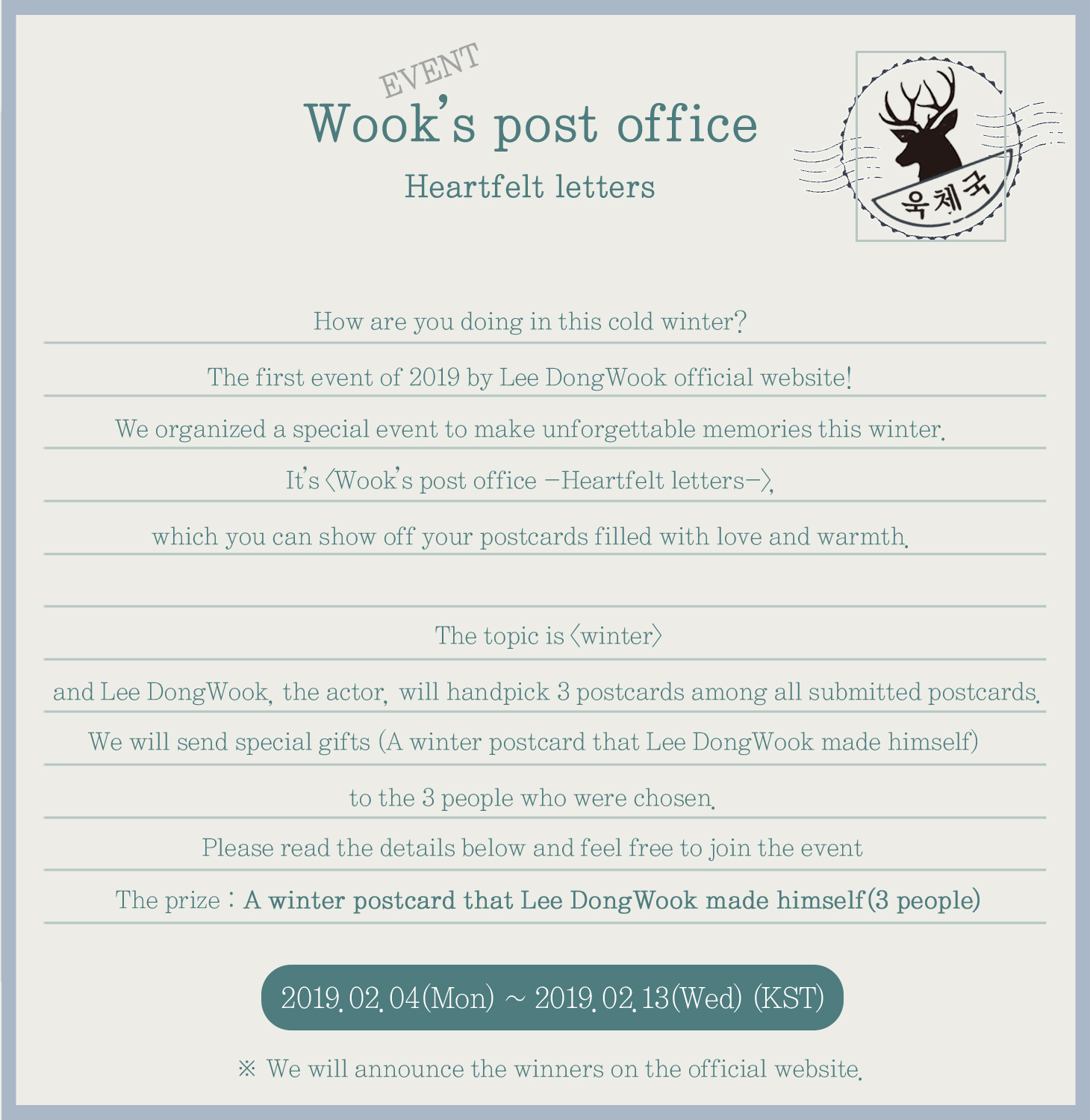 Hello. It's King Kong by Starship.
How are you doing in this cold winter?
The first event of 2019 by Lee DongWook official website!
We organized a special event to make unforgettable memories this winter.
It's , which you can show off your postcards filled with love and warmth.
The topic is and Lee DongWook, the actor, will handpick 3 postcards among all submitted postcards.
We will send special gifts (A winter postcard that Lee DongWook made himself) to the 3 people who were chosen.
Please read the details below and feel free to join the event J
- How to join the event
Step1. Decorate a postcard freely thinking of the theme. (Flexible form: You can write letters to Lee DongWook on the back.)
★The size of postcards MUST be 10cm x 15cm.★
Hand paintings, pictures you took, or photos edited by computer software. With love, every postcard is perfect!
Step2. Take clear pictures or scan your postcards. (Upload image files if worked on computer.)
Step3. Upload your winter themed postcards on your social networks. (MUST tag photos with # LeeDongWook, #LeeDongWook_Wookspostoffice)
Step4. Click the button below, fill out and submit the form. (Make sure to leave the URL of your social network posts.)
- The prize : A winter postcard that Lee DongWook made himself
- The number of winners : 3 people
- The date and time of the event : February 4th 09:00 – February 13th 23:59 (KST)
- The winner announcement : We will announce the winners on the official website.
*Please read*
- When joining this event, please make sure you work on 10cm*15cm size postcards.
- Multiple postings and entries are possible on this event.
- The postings on your social networks MUST be publicly viewable.
- All of the postings and applications received after the deadline will not be considered, so make sure you join the event by the deadline.
- The postcards of the winners will be uploaded on the official website. If you accept this, click the button on the form.
- We will contact the winners by email, so be sure to type the correct information.
- The personal information will be deleted after the event.
If you have any questions about the event, feel free to send emails to leedongwook.home@gmail.com.
Thanks.
※The official website of Lee Dong-wook will prohibit unauthorized theft, refurbishment and redistribution of contents.
Board list

No.

Content

Name

Date

Hits

9

normal

킹콩 by 스타쉽

4283

8

normal

킹콩 by 스타쉽

2061

7

normal

킹콩 by 스타쉽

5498

6

normal

킹콩 by 스타쉽

2822

5

normal

킹콩 by 스타쉽

2692

4

normal

킹콩 by 스타쉽

2093

3

normal

킹콩 by 스타쉽

5274

2

normal

킹콩 by 스타쉽

8932