Lee Dong Wook Official Website open celebration event <Share it> (Close)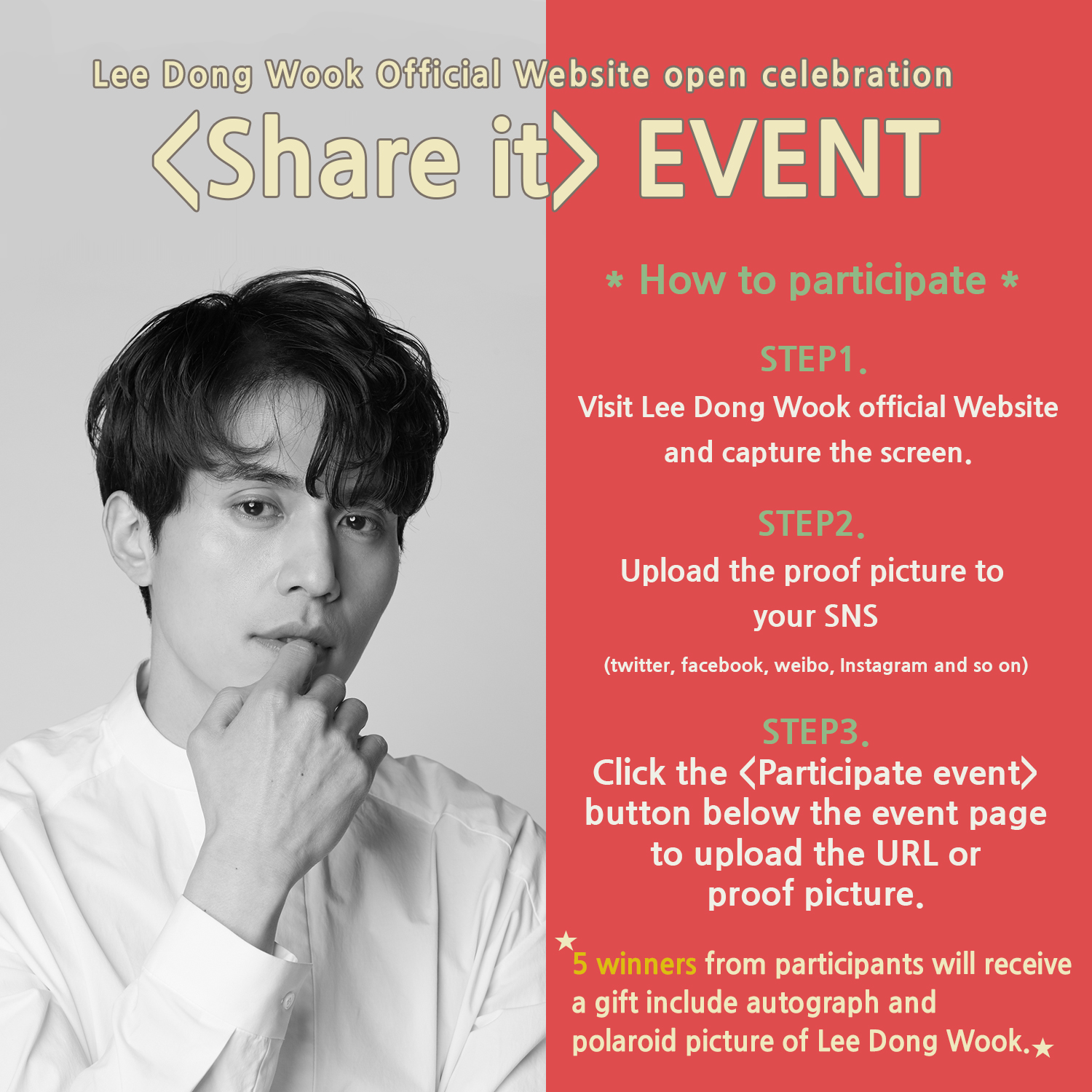 Hello. King Kong by starship.
Actor Lee Dong Wook's Official Website opens on July.19
event is held to celebrate Official Website opening. Wish you participate it. 5 winners from participants will receive a gift include autograph and polaroid picture of Lee Dong Wook.
STEP1. Visit Lee Dong wook Official Website and capture the screen.
STEP2. Upload the proof picture to your SNS(twitter, facebook, weibo, Instagram and so on)
STEP3. Click the
button below the event page to upload the URL or proof picture.
*
Gift
: autograph and polaroid picture of Lee Dong Wook
* Number of winners : 5
* Promotion period : From open day(July.19) to July.25
* Announcement of winner : Winners will be notified via email
- Winners of this event will be notified via the e-mail you left, please make sure the e-mail you left is correct.
- One SNS ID can participate for once. Please make sure the post is completely public.
- Please left either poster URL or proof picture when you write the
form.
- Personal information collected during the event period will be discarded after the event period.
Participate event (close)
※The official website of Lee Dong-wook will prohibit unauthorized theft, refurbishment and redistribution of contents.
Board list

No.

Content

Name

Date

Hits

9

normal

킹콩 by 스타쉽

4282

8

normal

킹콩 by 스타쉽

2061

7

normal

킹콩 by 스타쉽

5498

6

normal

킹콩 by 스타쉽

2822

5

normal

킹콩 by 스타쉽

2692

4

normal

킹콩 by 스타쉽

2093

3

normal

킹콩 by 스타쉽

5274

2

normal

킹콩 by 스타쉽

8932